Non-GMO oilseed contracts are now available from Bunge.
CANTERRA SEEDS is very excited to partner with Bunge on their new Non-GMO Production Contract at Harrowby, MB, for the 2018/2019 season.
Bunge North America is an agribusiness and food ingredient company dedicated to improving the global food supply chain. Bunge Harrowby is committed to ensuring customer service is their top priority and has a proven track record for quality oil, quality grade, competitive dockage levels and fulfilling contract commitments.
CANTERRA SEEDS' hybrids, CS2200 CL and the new, CS2500 CL are both available for the contracting program. Learn more about CANTERRA SEEDS' Clearfield hybrids: CS2200 CL, CS2500 CL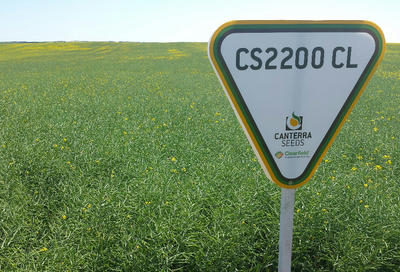 Details of the contract include:
The contract offers a $35/MT premium over Bunge Harrowby's canola basis
Growers must select a minimum of two delivery periods and a corresponding basis for 35 bu/ac
Maximum 50% delivery September 2018 - January 2019.
35 bu/ac by August 31, 2019 guarantee
Act of God clause
| | |
| --- | --- |
| Delivery Month | Futures Month |
| Sept - Nov 2018 | November 2018 |
| Dec - Jan 2019 | January 2019 |
| Feb - Mar 2019 | March 2019 |
| Apr - May 2019 | May 2019 |
| June - Aug 2019 | July 2019 |
To apply for a Non-GMO production contract with one of CANTERRA SEEDS hybrids, visit your local CANTERRA SEEDS retailer. An application can conveniently be completed at any retail partner, or by contacting Bunge directly at 1-800-665-0499.
Contract volumes are limited - don't delay, get your CANTERRA SEEDS Clearfield canola and sign your contract today!